My mom and dad were invited to attend my cousin's wedding in Chicago a few months ago. My Dad decided it was too far for him, so my mom called and invited me. Of course I was ecstatic and eager to go with her. For one, I love weddings! There's a reason I am a wedding photographer. My cousin Casey, and his beautiful (now wife) Aarathi were having a traditional Indian wedding, and we were invited to both the sangeet and the main ceremony. I've never attended or worked a Hindu wedding, and I was excited to be there and celebrate with them. Second, we decided to go early and tour downtown Chicago. I hadn't been to Chicago since I was a part of the St. Patrick's Day parade in high school, plus I was ready for a vacation!
Thursday, we hit the road for Chicago.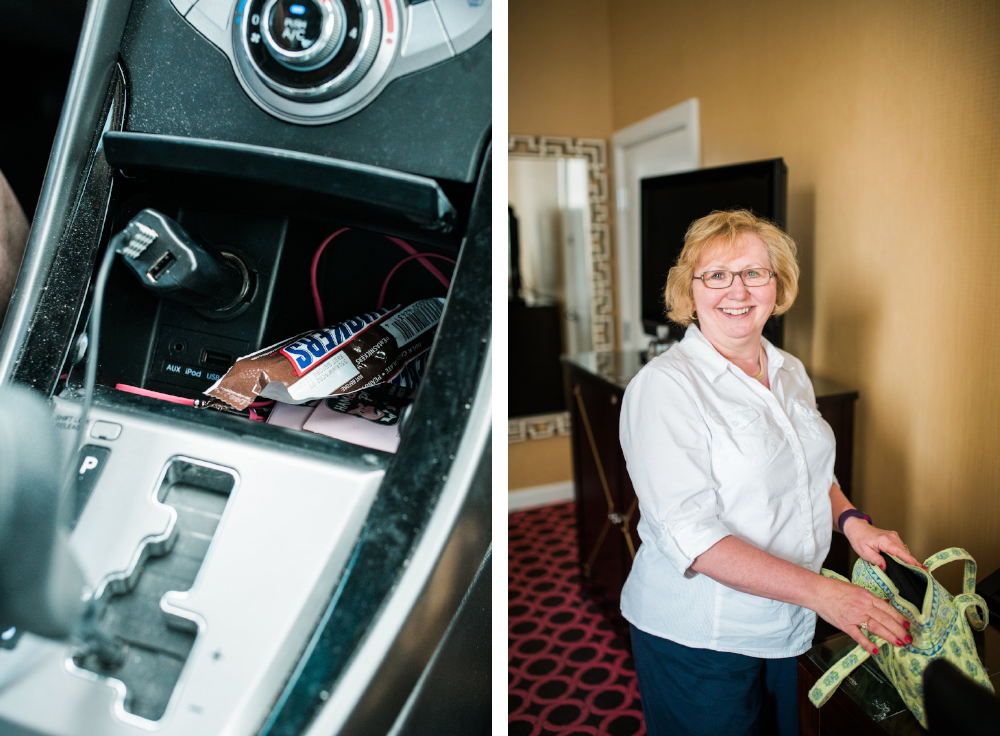 They were very nice, and gave us a room with a view. We spent the first hour just sitting in the window box, people watching.
They also gave us a goldfish to keep us company in our room! We named him Fishy - very creative.
After a glass of wine in the lobby (free from the hotel!), we headed out into the city.
First stop was for dinner, and Moscow Mules at a steak restaurant. They had a live band, and I'm pretty sure Mom would've been content to sit there all night.
However, we did start walking again. We went all the way to Millennium Park to see the bean.
This was the only way to get us both in the picture!
We walked through a concert in the park. I was surprised how many people were out enjoying the evening - considering it was a Thursday!
After the park, we decided to keep walking along a trail to the lake and harbor. The view of the city was wonderful.
I actually made my mom take a few pictures of me as well!
We made it to the lake, just in time for the sky to start changing colors from the sunset.
We didn't walk to Navy Pier on Thursday night, but got a great view of it from the shore.
By this point we were pretty tired, so we headed up the river walk back to the hotel.
But after we passed a few sidewalk cafes, we decided we needed a drink first.
This cafe had an island theme, complete with tiki decor and music.
The skyline and buildings after sunset looked even more incredible.
And we finally made it back to the hotel for the evening.
The next morning, we decide to walk up Michigan Ave and window shop.
After shopping, we kept walking up to Oak Street Beach, where we enjoyed lunch.
Then we walked along the lake to Navy Pier (do you understand how much walking we did yet? so so much walking!).
Even though I'm not a ferris wheel person, Mom convinced me to go on the Centennial Wheel with her.
I have to say, the view was worth it.
We then walked along the river back to the hotel.
Unfortunately, it was time to leave Chicago. But we were excited to relax at our hotel in Downers Grove - where the wedding would be held.
I was a guest at my cousin's wedding, and captured a few behind the scenes photos. The photographer they hired did an excellent job, and it was nice to talk shop during a break in the action!
Their wedding was incredible, and I am so grateful my mom and I were able to be there to celebrate with them!
All in all, it was a great vacation - and makes me think that I should go on more trips!